By Bonnie Nipar | August 12, 2023
Where's The Beef: Helen Huang Delivers
The A24-Netflix dark dramedy series Beef is something of a cultural phenomenon. Danny (Steven Yeun) and Amy (Ali Wong) are two strangers who engage in a road rage incident, then quickly spiral down a rabbit hole of obsessive retaliation. Creator Lee Sung Jin had an Asian cast in mind, but the feelings of frustration explored by the script are universal. It is the subtlety of Helen Huang's costume design that conveys the nuances of the Asian experience in Los Angeles. "My approach is born out of the desire to show the complete personal histories and complexities of each character," she notes. "It's a design philosophy that recognizes Asian Americans are not a monolith. There are different ethnic backgrounds, individual family histories, and economic disparities that inform their experiences."
Huang's costumes emphasize the contrast between Amy and Danny contribute to the escalating tension in their altercations. Although they live only 35 miles apart in Los Angeles, they inhabit two different worlds. Amy lives in affluent Calabasas, while Danny lives in a semi-depressed neighborhood. She is a businesswoman on the verge of closing a $10 million deal. He is struggling financially and desperately needs a win. Amy is current and trendy. Her clothes are polished and controlled on the surface, concealing her inner turmoil. His are dated and stylistically stunted. Huang shopped muted colors and creams for Amy in fashionable boutiques as opposed to sourcing garments for Danny in thrift stores to keep his look real. "The specificity of Danny's dollar-store house sandals, his flea market Liz Claiborne jacket, and his giveaway Sprint Mobile T-shirt represent not only a fully realized person, but also a visual documentation of the Korean American identity."
Beef. Steven Yeun as Danny in episode 101 of Beef. Cr. Andrew Cooper/Netflix © 2023
Beef. (L to R) Mia Serafino as Mia, Ali Wong as Amy in episode 103 of Beef. Cr. Andrew Cooper/Netflix © 2023
Beef. Steven Yeun as Danny in episode 107 of Beef. Cr. Andrew Cooper/Netflix © 2023
Beef. Ali Wong as Amy in episode 102 of Beef. Cr. Andrew Cooper/Netflix © 2023
Beef. Steven Yeun as Danny in episode 101 of Beef. Cr. Andrew Cooper/Netflix © 2023
Beef. (L to R) Steven Yeun as Danny, Ali Wong as Amy in episode 110 of Beef. Cr. Andrew Cooper/Netflix © 2023
Beef. Ali Wong as Amy in episode 110 of Beef. Cr. Andrew Cooper/Netflix © 2023
The supporting cast is designed to strengthen the contrast between the two lead characters and their individual worlds. Complementing Amy's curated style, her husband, George, (Joseph Lee) exudes casual chic. "He has an international style mixed with that Silver Lake hipster kind of aesthetic," says Huang. To intensify the tension between Amy and her mother-in-law, she dressed Fumi (Patti Yasutake) in bold colors and patterns from distinctive and idiosyncratic Japanese designers. "I don't like sacrificing a female character's unique aesthetic to make her look more 'conventionally flattering.' I feel that waters down the character." Projecting a woman who is confident in who she is, Fumi wears big 1930s rings and bracelets and a large Issey Miyake necklace that complement her wearable-art style.
"Additionally, I consider elements such as music, education level, and social circles that contribute to a character's personal style," explains Huang. Danny's younger brother Paul (Young Mazino) is very Americanized. He lives in a little community outside Los Angeles with access to a local mall where he buys Champion and Express. He's trying to be stylish with limited funds. "We shopped used clothing for depth of character and I often repeat costumes because I don't want the show to seem like they have a new outfit every day." All of cousin Isaac's (David Choe) looks are rented. Huang plays with the audience's expectations of who he is. "When I dress a character like Isaac, who has been to jail, I don't lead with the thought that he's an antagonist. Isaac is kind of dicey and has a temper, but he wears LA clothes creatively."
Dressing billionaire Jordan (Maria Bello) on a restricted budget posed problems. Huang's solution was to show how the character valued experiences rather than expensive labels. "We think of her as a female Indiana Jones-type character who travels the world to find rare artifacts." Peppering her costumes with vintage, Huang sourced textiles and accessories from Western Costume Company and other costumes houses, as well as Recess, a local vintage store.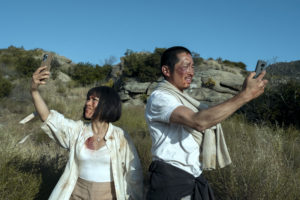 Beef. (L to R) Ali Wong as Amy, Steven Yeun as Danny in episode 110 of Beef. Cr. Andrew Cooper/Netflix © 2023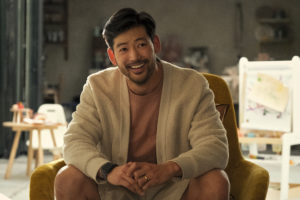 Beef. Joseph Lee as George in episode 105 of Beef. Cr. Andrew Cooper/Netflix © 2023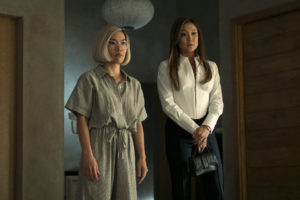 Beef. Ali Wong as Amy, Ashley Park as Naomi in episode 106 of Beef. Cr. Andrew Cooper/Netflix © 2023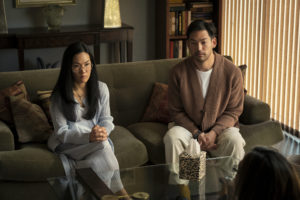 Beef. (L to R) Ali Wong as Amy, Joseph Lee as George in episode 103 of Beef. Cr. Andrew Cooper/Netflix © 2023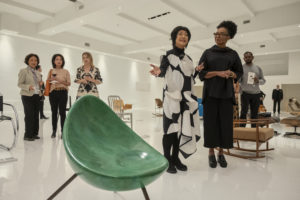 Beef. Patti Yasutake as Fumi in episode 102 of Beef. Cr. Andrew Cooper/Netflix © 2023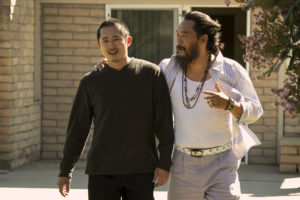 Beef. (L to R) Steven Yeun as Danny, David Choe as Isaac in episode 106 of Beef. Cr. Andrew Cooper/Netflix © 2023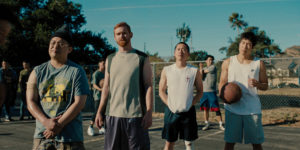 Beef. (L to R) Rekstizzy as Bobby, Andrew Santino as Michael, Steven Yeun as Danny, Young Mazino as Paul in episode 106 of Beef. Cr. Courtesy of Netflix © 2023
The cast especially enjoyed the flashbacks. The childhood photos they sent Huang of themselves and their parents provided authentic research for the Korean church scenes. "Beef was such an intimate show for me. I felt an immense sense of privilege to get to design these characters and share something with the audience that has been undershared before."
"Star Wars Vs. Star Trek" October 1, 2020
"Designers Are a Girl's Best Friend" January 18, 2021
"Transcending the Screen" February 1, 2018
"IATSE Locals Mixer" February 8, 2023
"CDG Holiday Party 2022" February 6, 2023
"Crescent City Hues" January 26, 2021