By Bonnie Nipar | August 17, 2021
Kid Confidential
"Never work with animals or children." W.C. Fields' advice wasn't just part of his grumpy persona, he knew audiences gravitate to the adorable actors. Not only can they steal every scene, their nature is in a word—unpredictable. We spoke to three costume designers about their experiences with young thespians. Catherine Adair's show, The Mysterious Benedict Society, premiered on Disney+ in June 2021. Soyon An has won a Daytime Emmy for Julie and the Phantoms, as has Cynthia Summers for her work on The Baby-Sitters Club. They give us a glimpse of what it is like working with a pint-sized cast with powerhouse energy.
Geek Chic
Catherine Adair – The Mysterious Benedict Society
As the showrunners requested, I started with the original illustrations in the book and used them as a springboard. What I love about the story is that none of the children have superpowers. What we celebrate instead is their accessible, quirky, and unique personalities. My team and I strove to build this into their costumes. We used a controlled color palette, mixed textures, and prints, with subtle aging and distressing to highlight the enchanting yet comfortably worn qualities of the world. This served as a counterbalance to the very considered and tightly drawn production design.
The big challenge was the unexpectedly long timeframe. I started prep in February 2019 and wrapped a full year later, at the end of January 2020. Everyone grew! And because of COVID and schooling, each young actor had two to four on-camera photo doubles and at least one stunt double. No clothes were shared according to protocols. Keeping the proportions believable across the many and slightly different body types was an added wrinkle, not to mention all the shoes. We ended up with a giant bin of hand-painted high-top sneakers for the character, Kate Wetherall, for example, that just kept getting bigger and bigger. We had to be really resourceful. Her green hat was knitted remotely by a Canadian granny we found on Etsy.
I work the same way with all my actors regardless of their age. Yes, some love to spend hours in fittings, others, not so much. But I usually find my young performers are excited, prepared, and engaged. This was especially true on The Mysterious Benedict Society. My starting point for the character is always the same: Who are they? How will the costume transform them? How will it help them tell the story?
Teen Dream
Cynthia Summers – The Baby-Sitters Club
The inspiration of being your own person and feeling confident presenting yourself is super hard for kids. It's hard for adults. I love working with young actors. They are so invested, adventurous, and eager to learn more about their craft, especially when they are working with notable adult actors. There is limited time with a young cast, so it's vital to keep the momentum going. A parent or guardian is always present. It's important to impress upon them that we have their child's best interest at heart and that they have a voice. It is also necessary to help them know when to take a step back. It's all about gaining trust for a great working relationship that can last years. On The Baby-Sitters Club, we were fortunate to have the best relationships.
I prep for children the same way I do for adults, by asking their opinion about their character's motivation and look. Each fitting room is personalized, so the focus is on them. I fill the walls with individualized mood boards, illustrations, verses or quotes, and play music. If we need five looks, we have ten ensembles ready with a backstory for each one. There are also a lot of accessories on hand. After my big song and dance, we dive in and create together. So much happens in the moment, and it's such fun. They leave feeling excited and I leave exhausted.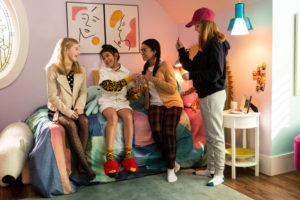 Cool Kids
Soyon An – Julie and the Phantoms
Fashion was extremely important on Julie and the Phantoms. I created trend boards and gave presentations that forecasted how I believed the nineties trends would resonate strongly in 2020 and 2021. Kids are so tuned in these days, with platforms like Instagram, Facebook, and Pinterest, that dressing characters for an audience with sophisticated sensibilities has to be considered.
Graphic tees are a staple to our everyday look. I like to incorporate them to make the scene realistic. The biggest challenge when using graphic tees is the clearance process. I start sending images as soon as I like something, even before fittings. This way I know what can and can't be used in the show. Sometimes I have to fit multiple looks because the clearance timeline and fitting timeline don't always line up. Often, I have to come up with my own designs. Because this falls into the art department's territory, there is a lot of collaboration between the art director and myself. This is cool because we come up with custom designed t-shirts.
The show has a boy band called Sunset Curve, and a girl group called Dirty Candi. There's the fashionista, the athlete, the mean girl, and our lead Julie, a misfit who walks to the beat of her own drum. Being a mom of all boys, dressing this cast, both male and female, felt like I was dressing my own kids with their own individual personalities. It was playing dress up to the extreme, because there were so many different characters. They had to be fun, youthful, and timeless. Creating the styles for each of them was incredible.