By Louise de Teliga | June 28, 2021
Fashion as Fiction
How do costume designers portray iconic, real-life personalities ― especially those trendsetters whose rise and fall has been chronicled with breathless detail in the tabloid press, evening news, and fashion bibles? With a mix of trepidation, fascination, and fearlessness!
Intensive research is key. On one hand, because celebrities have every inch of their lives scrutinized, the information is easy to find. Conversely, the burden of accuracy is sky-high. Rabid fashion insiders are ready to pounce on every inaccuracy and decry every incorrect fabric, design, or seam. The pressure is real.
We spoke to Jeriana San Juan, who equipped Ewan McGregor to inhabit the persona of the king of seventies fashion chic in Halston, as seen through the eyes of creator Ryan Murphy for Netflix. Murphy has had this series bubbling for over 25 years.
San Juan was drawn to the project as she idolized Halston both as a designer and creative who used fashion as his art. Halston's influence is pervasive. His work has touched everyone's lives and many designers have been inspired by him ― Tom Ford and Michael Kors most notably. He was the first American designer to brand his name and create a worldwide fashion empire, including fragrance and licensing deals. He democratized women's fashion reaching beyond the usual audience of runway models, Park Avenue princesses, and ladies who lunch. His designs were forward-thinking and modern. Halston was the arbiter of delicious simplicity. San Juan chose to contrast his sleek world with the frenetic patterns people were wearing at the time.
Halston's inner circle was equally ubiquitous in the press. San Juan says she found the process of recreating real, renowned personalities versus fictional characters an absolute challenge that weighed heavily on her. The project morphed into joyous fun as she found a visual vocabulary and a language to describe these people and their lives. Among them are fashion icons Joe Eula, Halston's fabulous illustrator, Eleanor Lambert, who invented fashion public relations and created the Council of Fashion Designers, and Victor Hugo, Halston's lover. His coterie also included such luminaries as Liza Minnelli and Elsa Peretti, Halston's original muse and the designer of streamlined accessories for his collections and for Tiffany. These creative, independent spirits surrounded Halston in their own *Belle Époque bubble, inspiring him and each other.
San Juan started her research early in order to digest such an enormous world. In the Conde Nast Archives and Vogue, she found images from the period. Womens' Wear Daily had reviews of Halston's early collections. He began his career as a milliner and rose to fame after designing Jackie Kennedy's iconic pink pillbox hat for Kennedy's inauguration. Tiffany's was enormously helpful in her research on Elsa Peretti.
She was able to work with fabrics that Halston was famous for using ― everything from luxurious double-faced cashmeres and wools to Ultrasuede. She reached out to Toray International, the original creators of Ultrasuede and they helped her recreate his original colorways.
Some of Halston's most idolized outfits were reconstructed exactly. Naeem Khan, now a famous designer in his own right (designing clothes for Michelle Obama), began his career as Halston's apprentice. He partnered with San Juan to recreate the beaded jumpsuits and kimonos for Liza Minnelli (Krysta Rodriguez).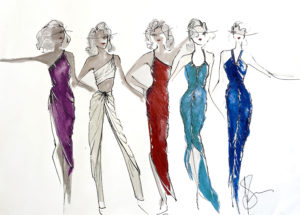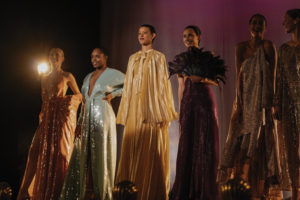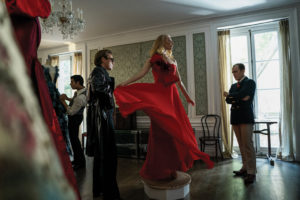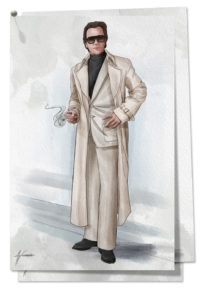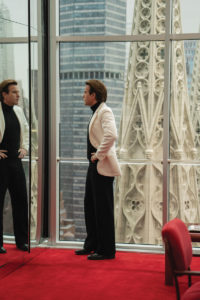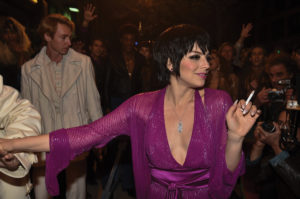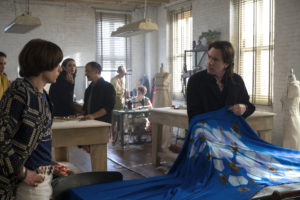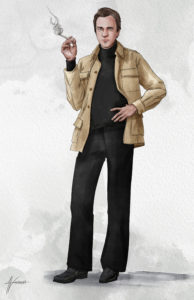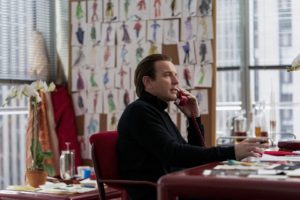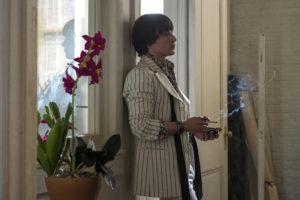 She also interviewed several people who were pivotal in Halston's life. Gino Balsama, his personal tailor, advised her tailor on the pattern and cut of Halston's clothing, and attended Ewan McGregor's fitting to consult and offer insight. She went to the home of one of Halston's famous models and muses, Chris Royer, who has a collection of original Halston garments. Chris told her how he moved, oozed chic, and was as a friend. Halston's house manager, Sassy Johnson, shared what he wore daily and how he draped his sunglasses as he sashayed gracefully through his atelier, and what the general dress code around his office was in the late 70s to 80s.
They had laughs galore. She taught him how to sew, to move through a workroom as a designer, and cut and drape fabric on live models. Halston liked to manipulate fabrics ― cutting on the bias ― and San Juan helped him learn how to do that. She sat with bated breath behind the monitor, hoping McGregor wouldn't prick the actresses with pins, and she would jump in with pointers if she saw him faltering. Halston never wanted the line of his pants to be sullied by such practicalities as pockets, so McGregor became accustomed to using his hands differently.
Her process was a full immersion with all departments. San Juan collaborated with production designer Mark Ricker, in his quest for an authentic workroom set. They recreated Studio 54 and the Battle of Versailles fashion show ― in which French couturiers were pitted against American designers ― to Halston's 5th Avenue store and home. She also worked with director Dan Minahan on the choreography of designing, draping, and creating fashion garments. San Juan loved this project and working beyond the scope of traditional costume design. The whole cast and crew were absorbed into Halston's luscious, chic but ultimately, tragic world.
"Star Wars Vs. Star Trek" October 1, 2020
"Designers Are a Girl's Best Friend" January 18, 2021
"CDG Holiday Party 2022" February 6, 2023
"Crescent City Hues" January 26, 2021
"Minari: Living The Korean American Dream" January 26, 2021
"Magic In Minutes: SNL's Eric Justian & Tom Broecker" January 31, 2021