By Bonnie Nipar | January 26, 2023
Daisy Jones & The Six - A Visual Ballad
Huddled in her hotel room in 2019 as Hurricane Barry raged over New Orleans, costume designer Denise Wingate spent the day devouring Daisy Jones & The Six. Her friend, producer Michael Nelson, had recommended she read it for her next project. He knew as an ex-club kid on the Sunset Strip who toured with the Bangles for a year, she would be perfect for the job. "It was so up my alley," says Wingate.
To encapsulate the rock culture of the '70s, Wingate extensively researched all the era's hit bands and built a huge bound book. She had never met co-creators/executive producers Scott Neustldter and Michael H. Weber until the interview, nor had she worked for Amazon or Reese Witherspoon's Hello Sunshine Productions. "They were blown away by my presentation and said, 'This is the show!'"
Production rented the famed Sound City Studio for band rehearsals. "Its historical vibe got us all into the mood," Wingate notes. While the actors were at 'band camp,' she would drop in to see how they were developing their characters. She crammed racks with finds from every conceivable source, including vintage, contemporary, and custom builds. She just completed her last fitting when Covid shut down production. "It was heartbreaking," says Wingate, "but oddly enough, it made a luxury of time that worked out in everyone's favor." Wingate resumed her hunt-and-peck to fine-tune the costumes. "Every time someone tested positive with Covid, we had to stop again. The holds gave me time to really shape the style." or Daisy Jones (Riley Keough), Wingate drew inspiration from the great female vocalists of the times. She found early images of Linda Ronstadt wearing cutoffs and little halter tops with big hoop earrings and cowboy boots. Cher was a big influence with great looks back in the Gregg Allman days. "Riley didn't really want to go Stevie Nicks at first, but we morphed that way when she became a big star." The most challenging outfit was what Daisy would wear in the final episode. It had to be more than amazing—it had to be spectacular.
"Riley was listening to Fleetwood Mac's 'Gold Dust Woman' and said that's who she wanted to emulate." Wingate used a vintage hand-crocheted gold dress from Palace Costumes underneath a gold lame pleated Halston dress that they cut down the center-front during the fitting to create a cape. Eureka!
Billy Dunne (Sam Claflin) is the brooding lead singer. "My whole inspiration for him was early Bruce Springsteen because he's 'The Boss' and he's never changed. He still has the same style he made work for him as a down-to-earth rock star. And that's who Billy is, a blue-collar guy from Pittsburgh. We never wanted him to look like he got sucked into fame. His look is denim-on-denim with rockin' leather jackets and boots."
Teddy (Tom Wright) is the wise and older Quincy Jones-type producer. "He was so fly, we just had a blast." Graham (Will Harrison) is Billy's little brother. "Understated but with some cool authentic pieces and vintage leather jackets, he slays it as lead guitarist."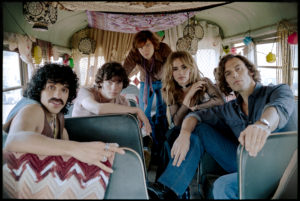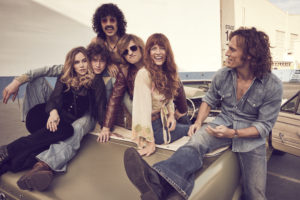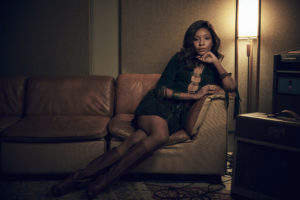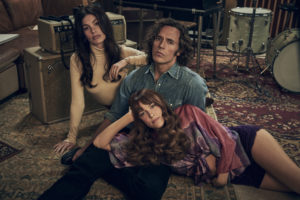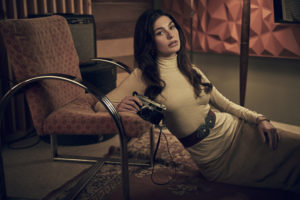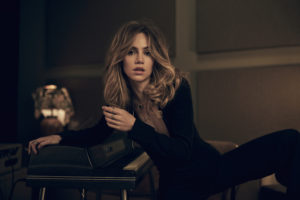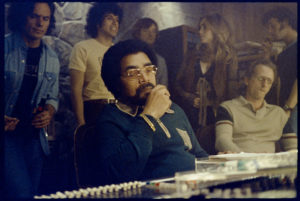 "Warren (Sebastian Chacon) as the drummer, is crazy," she laughs. "He was really into beads and vests with no shirts and full-on fur coats like Jim Morrison wore. He was the peacock." Billy's wife Camila (coincidently played by Camila Morrone) in a classic Ali McGraw style, later went more Bianca Jagger. For keyboardist Karen (Suki Waterhouse), it was Patti Smith with some Joan Jett. "Manager Rod Reyes (Timothy Olyphant) of The Six, was totally game. The very first day he worked was by the pool and I put him in Speedos, a ratty bathrobe, and kickass boots. He's got the build to wear flare jeans, with big belt buckles."
"Shooting in Los Angeles was a dream, but it all went south in New Orleans." Between Covid, the frequent tornados and hurricanes, and the numerous shows on location, it was hard to find crew or a tailor. Storyboard and block shooting was difficult. "We had several montage sequences to show the passage of time—one that amounted to 52 costumes on seven actors." Since the costumes inform the character arcs, making them look young, then look appropriately aged throughout, it took time to do costume changes.
A week before shooting the last episode in Hydra, Greece, Wingate broke her ankle and had to finish the show in a wheelchair. Because there are no cars on the island, the only way she could get to and from set was on a mule. Although fraught with challenges, Wingate enthuses, "Even with the broken bones and the blood, sweat, and tears, it really was one of the best experiences of my life."
"Star Wars Vs. Star Trek" October 1, 2020
"Designers Are a Girl's Best Friend" January 18, 2021
"Transcending the Screen" February 1, 2018
"IATSE Locals Mixer" February 8, 2023
"CDG Holiday Party 2022" February 6, 2023
"Crescent City Hues" January 26, 2021