By Bonnie Nipar | June 5, 2023
Cosplay Under The Sea
San Diego's Comic-Con International is right around the corner: Friday, July 20 to Sunday, July 23, 2023. The reimagining of Disney's classic The Little Mermaid touts modern looks for two favorite characters. We asked legendary costume designer Colleen Atwood for her tips to cosplay the spirited young Ariel or her handsome Prince Eric.
Directed by Rob Marshall, this live-action hybrid creates the magical under-the-sea world by using performance capture, a technique that records detailed movements and facial expressions of live actors to create computer-generated characters. Since the mermaids never actually wear their costumes, Atwood made mockups, prodigiously detailing the scales and hues for Ariel and her Sisters from the Seven Seas. The demos were scanned and used as reference for the visual effects team and for Marshall's approval. "Much of my time was spent working closely with the digital team perfecting details to make each mermaid unique," says Atwood. "It was a different kind of costume design, but I really enjoyed it."
Halle Bailey as Ariel in Disney's live-action THE LITTLE MERMAID. Photo courtesy of Disney. © 2023 Disney Enterprises, Inc. All Rights Reserved.
(L-R): Halle Bailey as Ariel and Jonah Hauer-King as Prince Eric in Disney's live-action THE LITTLE MERMAID. Photo by Giles Keyte. © 2023 Disney Enterprises, Inc. All Rights Reserved.
To cosplay Ariel as a mermaid, Atwood suggests using a textural spandex fabric silk-screened or hand painted with scales. "In nature the pattern of scales is irregular, so making your own hand-cut scales and sewing them on could be really creative." For the ruffled dorsal fin and the flowing tail, Atwood used a combo of cheap sparkle sheers, outlined with glitter glue, then had them cut out. Atwood drew her inspiration from the dramatic tails of vibrantly colored betta fish. "The glitter glue edge gives a little structure and the tail itself is sheer diaphanous fabric." A thin delicate ruffle adds sweetness to the bandeau top.
"The blue dress Ariel wears as a human fits in with the princess world above the sea. It's based on 1830s and 1840s styles, but with a Caribbean flavor," shares Atwood, "made of cotton organdy dyed to be the color of a tropical sky." She designed rows of different pleating patterns to give the skirt its distinctive shape, adding an embroidered corselette to define the waist, a ruffle around the shoulder, and satin boots made by famed shoemaker Pompei of Italy. Unaccustomed to shoes, Ariel soon replaces the boots with sandals the villagers wear.
"This dress is very labor-intensive to replicate due to the hand pleating in the skirt and hand smocking at the cuffs and shoulders," notes Atwood. She advises to look for a fabric that has a similar texture, then color match a flat fabric for the puffy sleeves. "Just kind of fake it," she laughs.
The second dress is made out of pineapple, or piña cloth. "It's a very old organic fabric from the Philippines that's been around for hundreds of years and is similar to organza." Atwood loves its natural color and has often used it, mainly for corsets. "Considering the setting and the organic quality of the character, I decided to try it as a dress. I added light pinky-coral embroidery to the ruffled tiers in spirit of the Caribbean style and to convey Ariel's girlish innocence."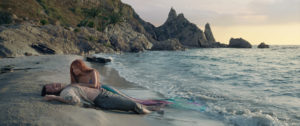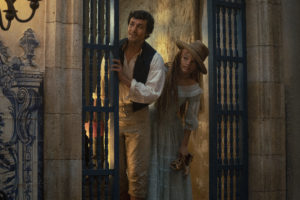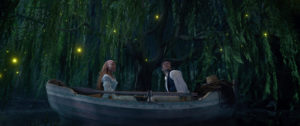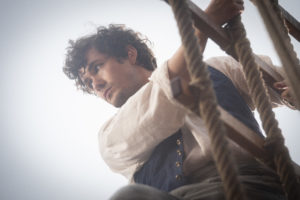 Prince Eric looks like a hunky hero from a romance novel. His white poet's shirt is typical of the era and made of fine linen. "Two or three different weights were made to test the best movement for underwater photography. Since Eric is wet in a good part of the movie, all his garments were cotton or linen." His breeches are high-waist, flat-front gray linen worn with a woven cotton vest dyed indigo. "His black leather knee-high boots with tan tops were custom-made by Pompei as authentic early 19th-century replicas. The breeches for his more formal clothes at the palace were made out of ivory moleskin, which is a heavier cotton." His white shirt and stock tie are worn with a black double-breasted, stand-collar coat along with his boots.
"All Eric's pieces could be rented from a costume house or purchased online from a reproduction site. Patterns for the poet's shirt are available online. Cosplayers could substitute modern gray linen pants cut off below the knee to tuck into boots."
Atwood readily embraced the hybrid process. "It was a very exciting project. When you see the final product, it's just jaw dropping."
"Star Wars Vs. Star Trek" October 1, 2020
"Designers Are a Girl's Best Friend" January 18, 2021
"Transcending the Screen" February 1, 2018
"IATSE Locals Mixer" February 8, 2023
"CDG Holiday Party 2022" February 6, 2023
"Crescent City Hues" January 26, 2021