By Gary Foss | August 17, 2021
Kym Barrett: Myth Over Matter
Most jobs require costume designers to hit the ground running, but Kym Barrett's work often needs a backflip, some somersaults, and a few spinning kicks before the race even starts.
Barrett mints icons like Apple cranks out iPhones. She hit the scene with the shockingly modern Shakespeare adaptation, Romeo + Juliet, and has not stopped sprinting since. In The Matrix series, she reimagined the superhero as an antihero with the unforgettable sweep of a black, floor-length coat and impenetrable mirrored sunglasses. She summoned terror in eerie orange jumpsuits for Us and took comic book characters from page to production in The Amazing Spider-Man and Aquaman. Now the highly anticipated Shang-Chi and the Legend of the Ten Rings is the next step in a career that is already action-packed.
Superhero studio films are in a shared universe and that requires paying attention to the broader property. That@s particularly the case with Shang-Chi, which expands the existing universe with spectacular action. When you work at Marvel, they have illustrators join design team meetings. They incorporate specific parameters that blend into the Marvel Cinematic Universe, so when their superheroes cross paths, they are cohesive.
Despite that wider attention, each project is unique. Shang-Chi will feature a predominantly Asian cast, breaking new ground for Marvel. Because the film is live-action, the costumes are both dramatic and functional. Barrett finds that even though the looks are eye-catching, the secrets of making them work are subtle. It's the things you don't see that are the biggest challenges, she explains. For Barrett that meant marrying historical and cultural references. Integrating her research increased the accuracy of the project, but also surprisingly the functionality of the costumes. In Shang- Chi I took cues from the cut and style of the oldest leather robe found in an archeological excavation, Barrett says.
The result is a costume that is practical but, When you see the performers fighting, you can tell that function came first. All of those ancient battle clothes evolved from trial and error. I adapted them for wire and acrobatic work.
Barrett's design philosophy is rooted in practical considerations, especially on projects that push the cast's physical limits. You have to keep people comfortable, she asserts. Once they've gotten used to their costume and they're confident, then they can try out new things and crazier stunts. That's where the real satisfaction comes in. Barrett finds this approach so successful that it influences her work on other types of projects. Consider the strange and sinister world her design helped to create on Us and From Hell in which characters struggle to come to grips with horrific, psychological realities. You give actors costume tools that allow freedom. I want the costume to disappear so they don't focus on how tight it is or heels that are too high.
Working in the martial arts genre means wear and tear on costumes. That issue is compounded when the production takes such pains to get every shot just right. We had a lot of multiples, but mostly because each character is showcasing different types of Kung Fu, Barrett explains. A lot of the action is very acrobatic, so characters often had an actor, a stunt double, a Kung Fu double, and an acrobatic double. Often someone would come in for one sequence because they happen to be the best in the world at that particular stunt. We had one outfit for the beginning of the day, one for after lunch, one for an emergency, and we had backups for big falls, slides along the floor, or whatever spectacle was on for the day.
Bold colors are a staple of the superhero genre, but on a project that is rooted in Kung-Fu, that means basing the costumes in their cultural context.  For Shang-Chi (Simu Liu), my color palette is primary. We use red and yellow for all their symbolic power. For part of the film, we\re in a world slightly removed from ours, a world that relies on some very strong, traditional Chinese tenets—the elements, yin and yang, and chakras.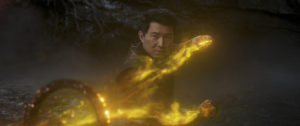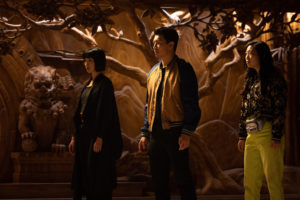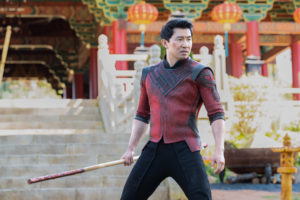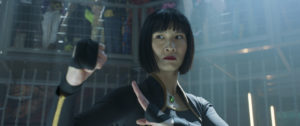 Each fighter has a personality associated with their strongest skill. It was important to me that the patterns and the colors of the clothes echo the environment."
For specific characters, Barrett considered their background and chose clothes that would reflect their individuality. "Wenwu (Tony Leung) has been alive for millennia and has learned every possible type of fighting." He is largely presented in blacks and whites to illustrate his power and authority. When in "civilian" clothes, he is impeccable. "We used Dennis Kim in Los Angeles for most of Tony Leung's suits. Tailoring is one of our most endangered skills. There's no structure for interns or anyone to learn from the masters, which is a big problem." "We have really great, strong female characters, Jiang Nan (Michelle Yeoh) and Katy (Awkwafina)," Barrett enthuses. In many ways, the female cast embodies the costumes of the film—from esoteric to grounded. "Of course, Michelle is very relaxed and a consummate professional. Her character lives apart from the modern world, so she's got her own style that is conducive to battle."
In contrast, Katy is rooted in the real world, and she gives the audience a path into the more fantastical elements of the movie. "Katy is a very bright light in the story. She keeps it moving along at a pace with joy and energy. I've tried to give her costumes that are comfortable, and emphasize style over fashion. It's a mix of recycled and young designers to show her personality." Costume designers use clothing as a window into identity, and Kym Barret uses that language with virtuoso effect leaving the collective subconscious with unforgettable people, despite their sometimes mythic status. If Barrett's easygoing personality and relaxed demeanor make this seem simple—it isn't. From ideation to implementation, collaboration to construction, she makes characters audiences resonate with and remember.
Darell Fuentes
You can always see in a person's eyes when they look at you with genuine kindness and respect.
There is an authenticity to Kym. Positive representation matters. Heroes are important. Asians have an abundance of charm, charisma, intelligence, courage, dignity, humor, talent, and everything in between, and many of which have been poorly depicted in the history of cinema.
Shang-Chi is more than a film, and will mean so much to people of Asian heritage.
Heroes are important. When Chadwick Boseman became Black Panther, that was more than a role. He became a hero and positive representative for his community. When we see Simu Liu as Shang-Chi, he will very much become the same. Heroes have the ability to inspire and help sustain positive emotional health within their communities. I can't wait for the whole world to see Shang-Chi.