By Louise de Teliga and Gary V. Foss | December 9, 2021
House of Gucci: Couture Killer
House of Gucci is the story of the machinations behind one of fashion's first families which led to the murder of Maurizio Gucci. The scion of the renowned Guccio Gucci was assassinated by his ex-wife Patrizia Reggiani in 1995. The film is inspired by the book The House of Gucci: A Sensational Story of Murder, Madness, Glamour, and Greed by Sara Gay Forden, which admittedly would be difficult to fit on a movie poster. The ascent, collapse, and resurrection of an Italian dynasty is so extraordinary that it is hard to believe it is all true.
Esteemed British costume designer Janty Yates
has collaborated on 14 films with director Ridley Scott and won an Oscar for her work on Gladiator. She spent nine months in Rome designing House of Gucci. Yates sighs wistfully when she describes being invited to the Gucci archives in Florence. Multiple Gucci ensembles could strain the budget of a film, but the archive kindly shipped a handful of looks to Los Angeles where Yates' assistant fit them on Lady Gaga. Lady Gaga also has a large fashion collection of her own, including vintage Gucci pieces. They amassed a vast closet for her. The movie covers a 20-year timeframe, with two or three looks established per day of shooting. By the end of the production, Yates developed over 74 outfits for Lady Gaga.
Scott didn't want the film to have some mad, '80s glam feel and Yates was initially terrified Lady Gaga would want exactly that kind of outrageous look. But when they first spoke, Gaga said, "I want to look like my mother." Her mother was an Italian American from the same era with a penchant for elegant, tailored suits. Yates was so relieved. She envisioned Patrizia as an Italian Elizabeth Taylor with a dash of Joan Collins.
Adam Driver Al Pacino and Jared Leto all play Gucci family members and had multiple costume changes daily
The costume department was always on the knife's edge to keep up. Her associate costume designer, Stefano De Nardis, recreated two huge fashion shows—Versace 1984, Tom Ford 1995—and invented a Paolo Gucci fashion show.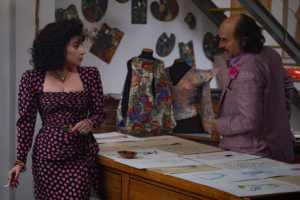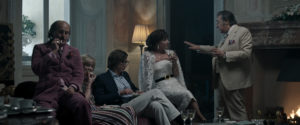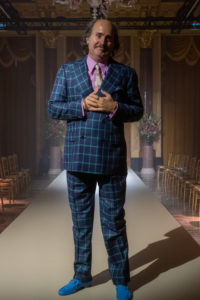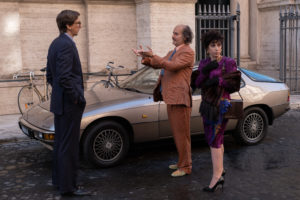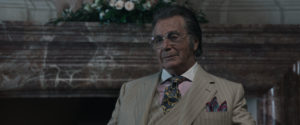 Yates had a wonderful cutter at Shepperton Studios, Dominic Young, who constructed many of Lady Gaga's costumes, and made her toiles. "There were no major technical drawing sessions or anything of that ilk. We just discussed each look at length. It was all very organic."
Supporting characters are similarly idiosyncratic. Pina Auriemma (Salma Hayek), a TV psychic tarot card reader, became a close enough friend to Patrizia to partner with her in commissioning the murder. Yates worried that Hayek would balk at the vulgar costumes, but she enthusiastically embraced the character and the look.
It was vital to dress Rodolpho Gucci (Jeremy Irons) in Savile Row tailoring
For later scenes when his character is ill and dying, they made him custom dressing gowns. They employed storied tailors from Naples, the Attolini brothers, who also did all the suits for Paolo Gucci (Jared Leto). When Len Logsdail one of her tailors fell ill, fashion house Zegna stepped into the breach until he recovered. They also collaborated on wonderful suiting for Aldo Gucci (Al Pacino). Opulent accessories cement the looks. Bulgari and Bucheron supplied fabulous jewelry and Breguet and Jaeger-LeCoultre provided watches. Naturally, Gucci supplied all the bags—ah, luxury!
A lot of excitement has surrounded this movie because of the salacious nature of the story, as well as the stars. The fashion was central to the tale, but it took Janty Yates to translate pieces into a rarified world and its characters.
View this article in the latest issue of The Costume Designer.
"Star Wars Vs. Star Trek" October 1, 2020
"Designers Are a Girl's Best Friend" January 18, 2021
"CDG Holiday Party 2022" February 6, 2023
"Minari: Living The Korean American Dream" January 26, 2021
"Magic In Minutes: SNL's Eric Justian & Tom Broecker" January 31, 2021
"Star Power" March 9, 2021