By Anna Wyckoff | August 1, 2020
Focus On Custom Shoemakers
Fantasy and fetish formed on a foot, the shoe has never been more important. "Sex and the City" ushered in a renaissance of Manolos, Louboutins, and Jimmy Choos to Middle America, and it was lust at first sight. After vacillating between the Gladiator and Armadillo, what is any decent fashionista to do? Get them made darling, like they do in the movies. In Los Angeles there are precious few shoemakers remaining to serve the film industry. We examine three.
Gary KazanchyanAndre #1
7914 West Sunset Blvd.
West Hollywood, CA 90046
www.andre-1.com
(323) 876-5565
When one enters Andre's—around the corner from the Director's Guild on Sunset and next door to famed greasy spoon, The Griddle, the sweet smell of maple syrup chases you through the door. The front showroom is spare and well appointed, but a telltale drone of sewing machines seeps in from the back room.
Gary Kazanchyan began by helping with small jobs. But he was so impressed with the amount of detail required during a fitting for the first "Star Trek" film that he promptly fell in love with the craft of making shoes. Eventually Kazanchyan took over his uncle Andre's shop. "Everything is done here including the last," explains Kazanchyan referring to the mold of the foot carved in wood, which is the first step of the custom shoemaking process. "Different heel heights require different lasts. Building the first pair takes roughly two weeks. If the client is a repeat, it would be even quicker." The approach is completely personalized. Any material or shape is possible. Kazanchyan elaborates, "After the last is made, we start working on the design, so it's carved out to the client's measurements, with their bunion, their arch support. Everything is built just for them, there are no sizes involved."
Andre acquired more machines when another legendary shoemaker, Pasquale Di Fabrizio, closed his doors. The workroom is bustling; the walls are packed with ungainly aparatus operated by a half dozen artisans. One wall is lined in dusty shoeboxes intriguingly labeled with names ranging from Kirsten Dunst to Dolly Parton. "Shoes and boots cost between $1200 and $1600," says Kazanchyan, "a handful of diehard clients fly in from Europe to be measured and fly out the same day. Once a client gets a pair made for them, they feel the difference between a store bought and a hand-made pair of shoes. Usually, they never go
Mauricio Osorio
Western Costume
11041 Vanowen Street
North Hollywood, CA 91605
www.westerncostume.com
T: (818) 760-0900
F: (818) 508-2190
"I was born between leather and sole," says Mauricio Osorio. Coming from three generations of El Salvadorian shoemakers, Osorio began making shoes at the age of twelve. "The shoe line is like tailoring, some make only pants, some make jackets. Everyone was working on shoes in my home, so I had the fortune to learn every part of the process from scratch… that helped me a lot when I started at Western Costume in 1977." Osorio has remained at the iconic costume shop for thirty-three years.
Osorio credits Costume Designer Wayne Finkelman for taking him under his wing. He recalls watching "The Golden Child" after making a hundred fifty boots for the film. "They didn't show anything!" he laughs out loud, "Except one part with Eddie Murphy's boot, but at least some of my work showed."
Osorio's method varies from project to project. "It depends on the designer and the movie," he notes. "Some designers bring everything: sketches, the material, samples and pictures, which is the best because they use only my knowledge and my hand." After taking measurements, a last and paper pattern of the design is made, reflecting details like buckles or straps. One sample is constructed to accommodate subtle proportional adjustments. Finally, the first prototype is built and fitted, followed by the balance of the order including multiples for doubles and stunts.
When creative decisions dictate alterations, Osorio takes direction in stride. "Changing the design is easy, but you have to consider the purpose of each shoe." For instance, one designer required numerous sets of boots made for Robert Downey Jr.—some for running, some for standing.
Osorio also builds specialty leather items for Western's workrooms, as well as creating exquisite garments for a world-renowned fashion designer who remains top-secret. In addition to his daily responsibilities, Osorio also teaches shoemaking at Woodbury University in Burbank. He relishes the opportunity to pass his craft on to yet another generation. The scope of his instruction ranges from flat shoes and sandals to boots, handbags, belts, and wallets. "Many people drive a car, but they don't know how the car is made. The same thing happens when a student is learning how to design shoes or boots; they realize how many things are involved," adds Osorio.
He comments with a smile, "I was very young when I started at Western and it was a good opportunity. To work for motion pictures is such a challenge. Every movie, every job with a designer is something new that I haven't done before. That is the reason I am very happy in this industry."
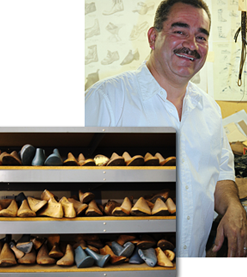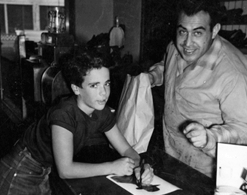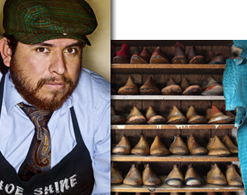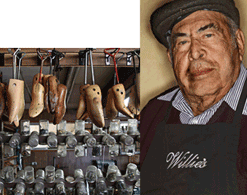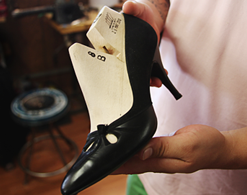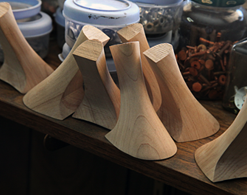 Raúl Ojeda
Willie's Shoe Service
801 North Cahuenga Blvd.
Los Angeles, CA 90038-3703
www.williesshoeservice.com
T: (323) 463-5011
Willebaldo Rivera also began his career at Western Costume at its original location near Paramount Pictures. He opened his own shop in 1956 with only four employees and has since shod such famous feet as Sophia Loren, John Wayne and Bing Crosby.
In 1982, he moved his shop a few blocks to its present location, and the workspace currently combines ancient relics with modern whimsy. The cluster of rooms is filled with curious machines, altars of memorabilia, photographs and specialized tools. The curb is triple parked, and the general state of affairs is controlled chaos.
Raúl Ojeda got his start shining shoes. First, he brought jobs to Rivera, and then he came to work for him in 2004. They became close friends, and now Ojeda runs the shop with the assistance of Salvador Hermosillo, while 93 year-old Rivera checks in regularly. Rivera is immortalized in a tattoo on Ojeda's bicep.
The men are serious about shoemaking, and despite the temptation for expediency, Willie's takes a strong stand against technology. "Shoemakers are few, and last makers are even fewer," says Ojeda, "so we are buying a machine built in the 1800's that will enable us to create all our lasts in-house. We really want to take it back to the dinosaur era and hand-carve them," he says with no trace of irony. Though most lasts are constructed of synthetic polyurethane or hard plastic, Willie's still uses German wood. Ojeda is even considering reverting to foot-operated treadle machines.
Leather is the preferred material for shoe construction due to its durability, but Willie's will build a shoe in any fabric you wish. For those willing to make the investment, most men's dress shoes start at $750, while fancy, Western-style cowboy boots approach $1,200. "The difference," Ojeda says, "is that our shoes will stay with you for years, because they're constructed better."
