By Gary Foss | December 8, 2022
Black Adam: Black in Back
Kurt and Bart
The superhero genre has seemingly devoured the blockbuster film space. Advances in digital filmmaking have contributed, but the fundamental shift is filmmakers taking their subject matter seriously. Technology that has permeated the film industry manifests in costume design as well, but the theme has shifted from superheroes wearing their underpants on the outside in reference to circus strongmen, to fantastical garments that still convey a sense of realism.
Having designed such films as Deadpool 2 and The Hunger Games: Mockingjay – Parts 1 and 2, Kurt Swanson and Bart Mueller, better known as simply as "Kurt and Bart" are no strangers to superhuman efforts. "We've been working together for nearly forty years," notes the Bart half of the dynamic duo. "There are other design teams out there," Kurt continues, "but my impression is that they have a very separate division of labor. We may have different opinions, but we share a similar sensibility. There are things Bart does that I don't and vice versa. I always tell people that we cover a lot of ground. We can be at second unit and first unit at the same time establishing things."
The titular character in Black Adam (Dwayne Johnson) begins the film imprisoned for millennium. To convey the drama, Kurt and Bart used dimensional silk screening to give the impression that the pattern was not just on the textile, but etched in stone. "We worked closely with Tom Meyer, the production designer. We all agreed that there was this ancient Sumerian cuneiform text on everything—a kind of first written language. We really wanted that to be on his suit, telling his story. On top of that print there is a web pattern that was the wizard's spell, encasing him." The character emerges as if burnt to a cinder and slowly returns to perfect form. The costume grows increasingly brilliant as the film progresses. "By the end we see him in his full black and gold. It was amazing to see that final iteration," Bart enthuses.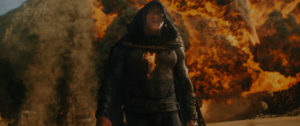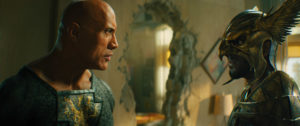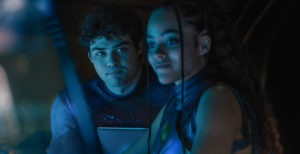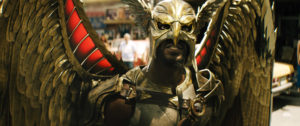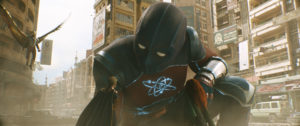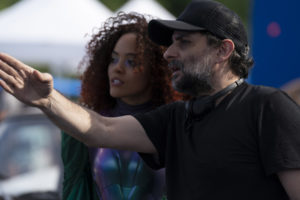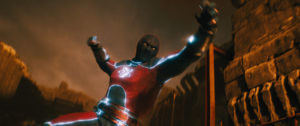 Other characters are treated with similar attention to detail and gravitas. Hawkman (Aldis Hodge) wears a costume that can change at the character's whim. "We thought about not just nanotechnology," Kurt says, "but how different shapes could generate, which led to an origami artist named Daniel V. Lee to explain the science behind how Nth metal could change and grow from smaller, geometric shapes." Doctor Fate (Pierce Brosnan) wears a mask that entirely covers his face, yet needs to be emotive enough to be relatable. "We took things from the research bible that were important to us and the genre, but also made sense from a design standpoint," says Bart. The result is an elegant symbolic talisman that is as much emblem as costume. Atom Smasher (Noah Centineo) wears a suit gifted from his uncle, a superhero from an earlier generation. He has a retro look to reflect that legacy. In contrast, Cyclone (Quintessa Swindell) can manipulate the wind and wears a costume that will be surrounded by digital effects. Bart notes, "The original design references the Good Witch of the West and Wicked. It's very green and somebody said to me the other day, 'Oh, it's like the Emerald City.'"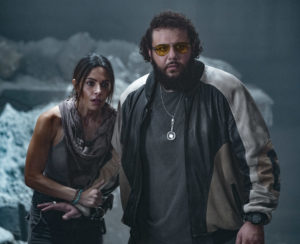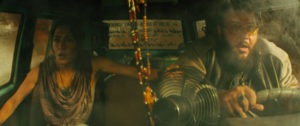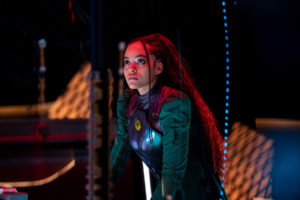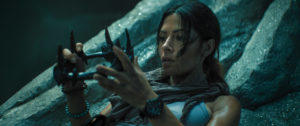 Unlike most superhero movies, Black Adam features many non-super-powered characters, but they receive a similar amount of attention. From the Intergang mercenaries to the people they oppress, the "civilian" characters needed to express the core theme of the film—a struggle for freedom that began during the rise of civilization itself. "One of my favorite things is when you see the crowds there are pops of color," Kurt says. "It's not just a suppressed, dusty, sad place. There is vibrancy in these people."
"Star Wars Vs. Star Trek" October 1, 2020
"Designers Are a Girl's Best Friend" January 18, 2021
"CDG Holiday Party 2022" February 6, 2023
"Minari: Living The Korean American Dream" January 26, 2021
"Magic In Minutes: SNL's Eric Justian & Tom Broecker" January 31, 2021
"Star Power" March 9, 2021